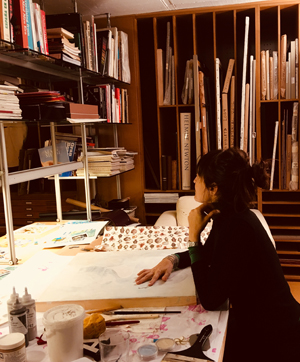 Soy diseñadora gráfica, fotógrafa y escritora. Actualmente compagino mi trabajo como novelista con el de artista plástica y fotógrafa.
Para mí todas las disciplinas con las que trabajo convergen en lo mismo: En la búsqueda de la belleza y la emoción, y en la necesidad de contar historias, ya sea a través de la palabra o la imagen.
Mis temas de creación orbitan alrededor de la mujer, el agua, el flamenco. Y la moda entendida como materia artística.
Estudié diseño gráfico y fotografía en la Escuela Superior de Diseño Elisava de Barcelona y en la Parsons School of Design de Nueva York. Cursé tres años de Psicología en la Universidad Autónoma de Barcelona.
He ejercido de Directora de Arte en revistas y estudios de diseño editorial y web. (Woman, British Vogue, FericheBlack, DoubleYou).
He colaborado como articulista para revistas como Harper's Bazaar, Officiel, Marie Claire y también como fotógrafa en Fashion and Arts Magazine y Conde Nast Traveller.
Llevo más de 15 años colaborando con el arquitecto, pintor y diseñador Oscar Tusquets Blanca.
Novelas:
"Esto no está pasando", (Ediciones B, 2011)
"Corazón Amarillo Sangre Azul", (Tusquets Editores, 2016)
"Ahora que te vas", (Tusquets Editores, 2019)
Exhibitions:
OFELIA, bar Cock. Madrid, 2020
AQUAPARKS, en la Galería N2, 2019
LIPS AND CIGARRETES, Chocko Club, 2017
COLLAGES, en la Galería Lassaletta de Barcelona, 2016

email me at eva@evablanch.com
@eva_blanch_
more work at evablanch.com

I am a graphic designer, photographer and writer. Currently I combine my work as a novelist with that of a plastic artist and photographer.

For me all the disciplines with which I work converge in the same: In the search for beauty and emotion, and in the need to tell stories, either through words or images.
My themes of creation orbit around women, water, flamenco. And fashion understood as artistic matter.

I studied graphic design and photography at the Elisava School of Design in Barcelona and at the Parsons School of Design in New York. I studied three years of Psychology at the Autonomous University of Barcelona.
I have served as Art Director in magazines and editorial and web design studios. (Woman, British Vogue, FericheBlack, DoubleYou).
I have collaborated as a columnist for magazines such as Harper's Bazaar, Officiel, Marie Claire and also as a photographer in Fashion and Arts Magazine.

I have been collaborating with the architect, painter and designer Oscar Tusquets Blanca for more than 15 years.